Rabbits with strange ability. Can see the future, and appear inside someones mind to give advice. They also give gifts. List of gifts:
- Whistle, purpose yet to be revealed. Given to Phineas Kidd.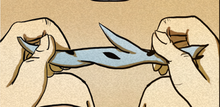 - A firework with a face drawn on it, given to Ellie, who gave it to Phineas, and was later acquired by Ulrich. Produces light capable of stunning The Tain, unfortunately one use.